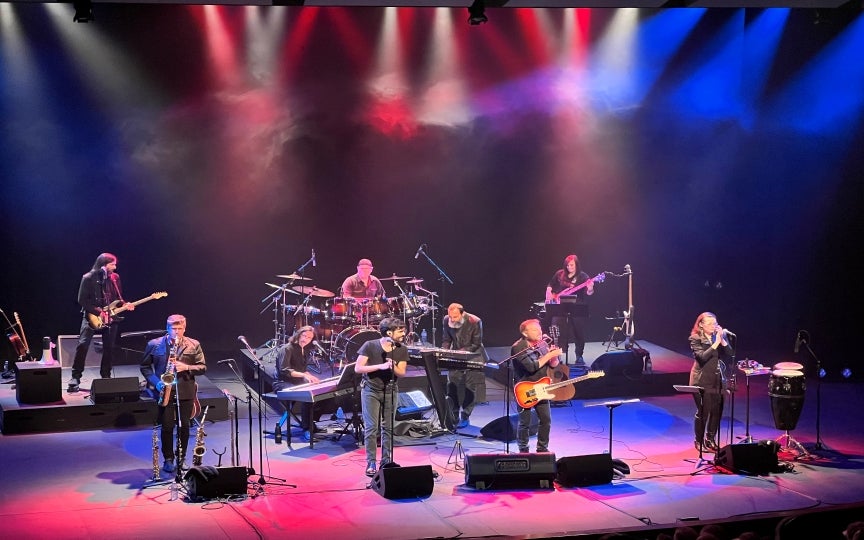 Date

July

15

2023

Event Starts

8:00 PM

Location

L3Harris Technologies Theatre

Doors Open

6:30 PM

On Sale

On Sale Now
King Center Presents
Classic Albums Live - Supertramp
Breakfast in America
Event Details
Supertramp took over where The Beatles left off.
With fantastic arrangements, soaring vocals and deft musicianship -
Supertramp found their way into your heart.
"Goodbye Stranger" is a song I sang to my sons when they were little.
"The Logical Song" makes you believe in hope.
Back in the day, I worked in the record department of a department store.
I'd blast Breakfast in America and, as though in a trance,
people would buy the album.
It's an album that accompanies us through life.
The two distinct vocals within Supertramp are,
like the Beatles, the secret ingredient.
When rehearsing the album we spent a lot of time
getting all the layered vocals
they're complex, melodic and full of meaning
and the sound becomes a siren of joy.
Supertramp ruled the 80s with Breakfast in America.
The album was everywhere. Hit after hit.
Funny - the one song that wasn't released as a single
is my personal favourite track - "Child of Vision".
It's a deep, uptempo, hypnotic song that sends the listener on a trip.
We'll be performing that song and the rest of the album
in a way that no one else in world does;
note for note - cut for cut.
The party starts 90 minutes prior to the start of the show. Party on the Patio is rain or shine, and The King Center Rotunda serves as the second location in the case of inclement weather.
WSBH 98.5 The Beach will be at the King Center with the Landshark BeachCruiser providing fun music, prizes and more!
Party on the Patio meal tickets and parking can be purchased online purchasing show tickets, as well as at the ticket office, open Monday - Friday, noon - 6 PM.
Mask Policy: Use of masks are optional and at the discretion of individual patrons
Clear Bag Policy:
Clear Bags up to 12"x6"x12" or 1 Gallon Resealable Storage Bag ONLY
Small Wristlets / wallets will still be allowed
(4.5" x 8.5" x 2")
NO LARGE PURSES OR BAGS ALLOWED IN
Classic Albums Live takes classic albums and performs them live, on stage - note for note, cut for cut - using the world's greatest musicians.
Founded in 2003 by Craig Martin, Classic Albums Live has become the ultimate destination for music lovers wanting to hear the greatest albums performed live, without all the gimmickry and cheesy impersonations. Relying only on the music, using what Martin refers to as 'the world's best musicians', Classic Albums Live has defined itself as a mainstay in Performing Arts Centres across North America.