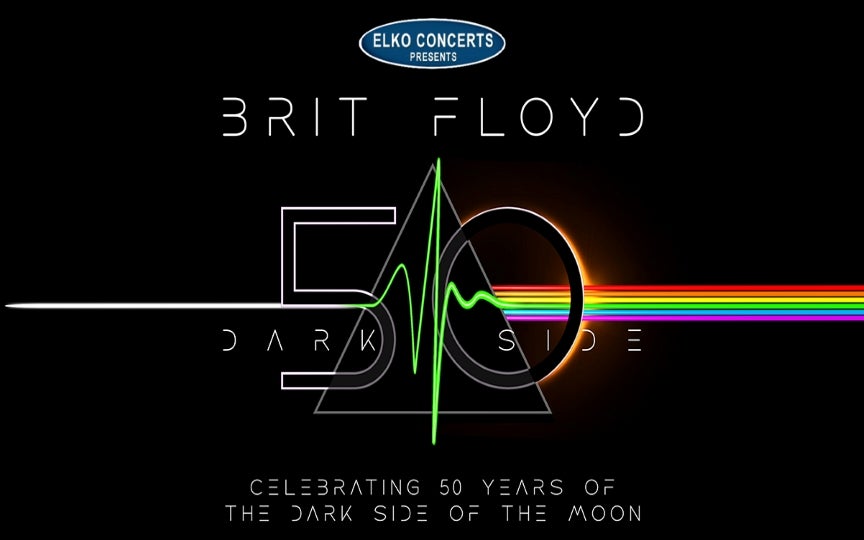 Date

May

27

2023

Event Starts

8:00 PM

Location

L3Harris Technologies Theatre

Doors Open

6:30 PM

On Sale

On Sale Now

Presale Offer
Elko Concerts
Brit Floyd
Celebrating 50 Years of The Dark Side of the Moon
Event Details
PLAYING THE KING CENTER FOR THE FIRST TIME EVER!
Limited preshow VIP Meet & Greet Soundcheck Experience package available!
Brit Floyd returns to the stage in 2023 to perform a brand-new production celebrating 50 years of the ground-breaking and iconic musical masterpiece The Dark Side of the Moon. The show will feature classic tracks from the album such as Time, Money, Us and Them and The Great Gig in the Sky.
The 2 and a half hours plus set list will also include other highlights from Pink Floyd's magnificent catalogue of albums, including tracks from The Wall, Wish You Were Here, Animals, The Division Bell, Meddle and much more.
Taking to the stage to perform note for note renditions of all these classic Pink Floyd tracks will be the band of musicians that audiences have become familiar with worldwide over the years, featuring long time guitarist/vocalist and musical director Damian Darlington, who has played over 2500 Pink Floyd music related concerts throughout his career.
The band will also feature Ian Cattell, Edo Scordo, Eva Avila and all the other expert musicians that have joined the ranks of Brit Floyd over the course of the last decade.
The party starts 90 minutes prior to the start of the show. Party on the Patio is rain or shine, and The King Center Rotunda serves as the second location in the case of inclement weather.
WSBH 98.5 The Beach will be at the King Center with the Landshark BeachCruiser providing fun music, prizes and more!
Party on the Patio meal tickets and parking can be purchased online purchasing show tickets, as well as at the ticket office, open Monday - Friday, noon - 6 PM.
Mask Policy: Use of masks are optional and at the discretion of individual patrons
Clear Bag Policy:
Clear Bags up to 12"x6"x12" or 1 Gallon Resealable Storage Bag ONLY
Small Wristlets / wallets will still be allowed
(4.5" x 8.5" x 2")
NO LARGE PURSES OR BAGS ALLOWED IN
VIP Meet & Greet Sound Check Experience
Brit Floyd will be offering a VIP Meet and Greet Soundcheck Experience for all 2023 shows. Guests will have an exclusive opportunity to browse through all the show merchandise and to chat to show personnel pre-show. Brit Floyd's musicians will treat the VIP audience to a special bonus performance of two classic Pink Floyd songs not featured in the evening show, and then afterwards will come down from the stage to meet all of the guests. The musicians will sign merchandise, take photos and be happy to chat with all VIP ticket holders.