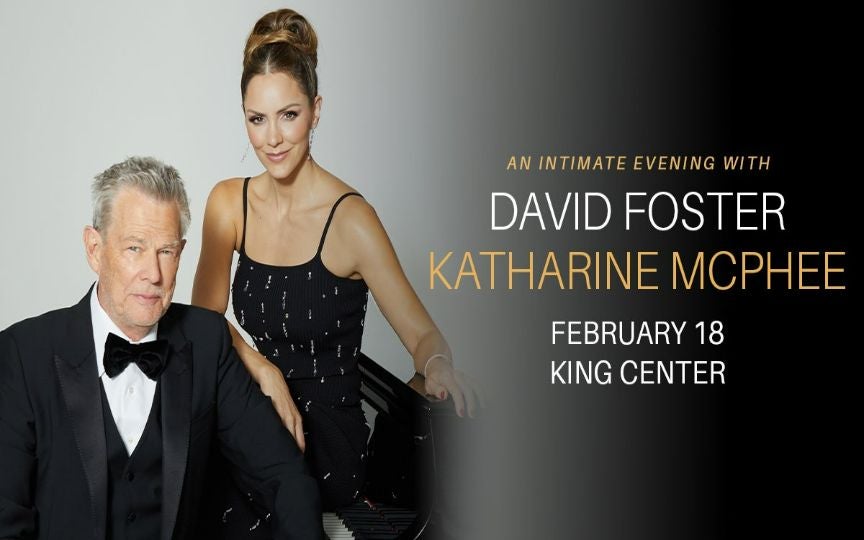 Date

Feb

18

2024

Event Starts

7:30 PM

Location

L3Harris Technologies Theatre

Doors Open

6:30 PM

On Sale

On Sale Now

Presale Offer
AEG Presents
An Intimate Evening with David Foster & Katharine McPhee
Event Details
Have an early access promo code? Enter Promo Code by clicking this link:
Grammy award winning producer David Foster and singer/actor Katharine McPhee are extending their highly successful tour into 2024. Foster, who has been anointed the "Hitman" by the music industry, will continue, along with McPhee, their "An Intimate evening with David Foster and Katharine McPhee" tour starting February 6 in Key Largo, Fl. They will play 18 dates with their tour stop in Melbourne on Sunday, Feb 18 ending the tour in Atlanta, GA.
An intimate evening with David Foster and Katharine McPhee is just that: an intimate evening with one of the biggest musical forces of our time. The 16-time Grammy award winning writer/producer performs songs that he wrote or produced from his four decades of hits and includes fascinating storytelling about the songs, artists and moments of his life. Some of the songs David and Katharine perform include Celine Dion's "The Power Of Love," Whitney Houston's "The Bodyguard", Earth Wind and Fire's "After The Love Is Gone," Chicago's" You're The Inspiration", Josh Groban's "You Raised Me Up," Natalie Cole's "Unforgettable" and many, many more. They also perform a selection of hit songs that are beloved by Katharine's fans.
Audiences love the banter and fun between the duo as they tell stories of how they met, what these songs mean to them, and the stories behind the songs.
Commenting on the tour Foster and McPhee say, "We are so excited that our shows have been so well received, that we will keep going. No rest for us. See you all next year."
Mask Policy: Use of masks are optional and at the discretion of individual patrons
Clear Bag Policy:
Clear Bags up to 12"x6"x12" or 1 Gallon Resealable Storage Bag ONLY
Small Wristlets / wallets will still be allowed
(4.5" x 8.5" x 2")
NO LARGE PURSES OR BAGS ALLOWED IN