Just Announced! Three New Shows At The King Center This Fall
JUST ANNOUNCED - THREE NEW SHOWS AT THE KING CENTER THIS FALL
Bryan Callen – Saturday, September 23
Kevin James – Sunday, November 5
Henry Rollins – Sunday, November 19
Performing Live at the King Center for the Performing Arts in Melbourne
Tickets on Sale this Friday, June 16
MONDAY, JUNE 12, MELBOURNE, FL –
The King Center for the Performing Arts is excited to announce three new shows coming to the Space Coast this fall! Bryan Callen – Unreasonable Tour will be coming to the King Center for the first time ever on Saturday, September 23rd. Kevin James returns after two years to perform his all new The Irregardless Tour on Sunday, November 5th and Henry Rollins – Good to See You Tour comes to the King Center for the first time ever on Sunday, November 19th. All three shows go on sale this Friday, June 16 beginning at 10 AM online at KingCenter.com and at noon at the King Center Ticket Office / 321-242-2219. Additional show details below.
Saturday, September 23, 8 PM – SAVELIVE PRESENTS: Bryan Callen – Unreasonable Tour – FIRST TIME EVER!
L3Harris Technologies Theatre (Main Stage)
Bryan Callen is an actor, comedian, and podcaster. He is best known for his recurring role as "Coach Mellor" on ABC's Schooled and The Goldbergs and as one of the original cast members of MadTV. Callen has also appeared in TV and films including Kingdom, Hangover 1 & 2, Ride Along, Sex and the City, Old School, Entourage, Californication, and many more. A veteran Headliner, Callen performs in theaters and comedy venues across the world. His third one-hour comedy special, "Complicated Apes", topped the iTunes charts upon its release in March, 2019 and can be found on Amazon Prime. Callen is known for being the co-host of the top-rated iTunes podcasts The Fighter and The Kid and Big & Hungry, as well as Conspiracy Social Club AKA Deep Waters, which can be found on Patreon.
Sunday, November 5, 8 PM – AEG PRESENTS: Kevin James – The Irregardless Tour – Returning after Two Years!
L3Harris Technologies Theatre (Main Stage)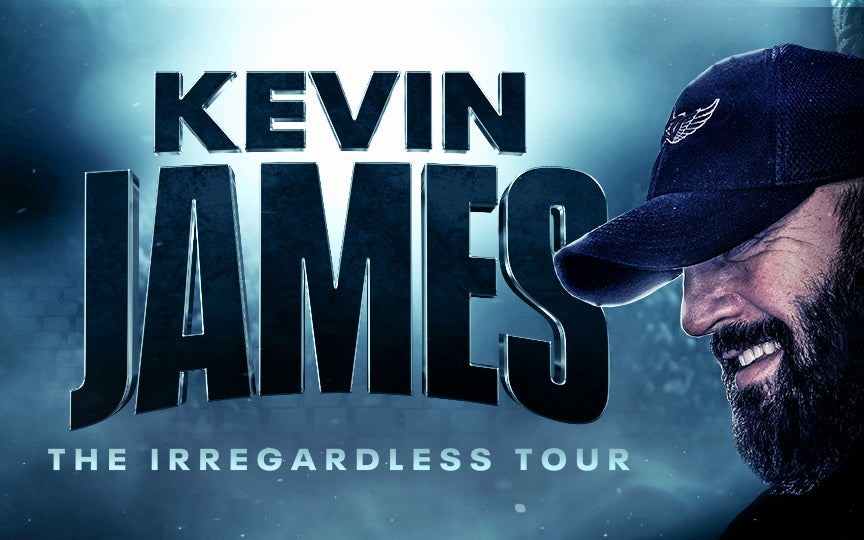 Kevin James began his career as a stand-up on the Long Island comedy scene. After being discovered at the 1996 Montreal Comedy Festival, he signed a network development deal to create his own sitcom.
The King of Queens, which premiered in 1998, ran for nine seasons on CBS with James starring and executive producing, and it garnered him an Emmy nomination for Outstanding Lead Actor in a Comedy Series. The show concluded its run in 2007 but continues to air daily in syndication across the country and around the world. James also starred in, and executive produced The Crew, a sitcom set in the world of NASCAR and is currently developing a single camera comedy (both for Netflix).
James was the producer, co-writer, and star of the hit comedies Paul Blart: Mall Cop 1 & 2, Zookeeper, and Here Comes The Boom. James made his feature film debut in Columbia Pictures' Hitch starring opposite Will Smith, and starred alongside Adam Sandler in Pixels, Grown Ups, Grown Ups 2, I Now Pronounce You Chuck and Larry, and Hubie Halloween. He starred in the feature True Memoirs of an International Assassin for Netflix, the independent action thriller Becky, and starred in and produced Home Team for Netflix.
Sunday, November 19, 8 PM – AEG PRESENTS Henry Rollins: Good To See You Tour – FIRST TIME EVER
King Center - Studio Theatre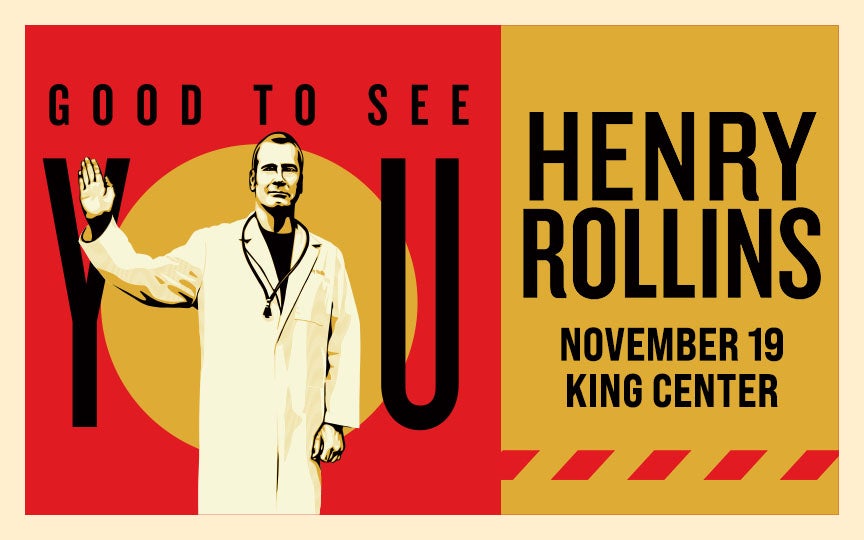 On the Good To See You tour, Henry will faithfully recount the events of his life in the brief pre-COVID period since the last tour and when things got even stranger over the last several months. It's been an interesting time to say the least and he's got some good stories to tell!
In describing Henry Rollins, the tendency is to try to squeeze as many labels as possible into a single sentence. "Rollins is many things," says The Washington Post, "diatribist, confessor, provocateur, humorist, even motivational speaker…his is an enthusiastic and engaging chatter." Entertainment Weekly's list includes "Punk Rock icon. Spoken word poet. Actor. Author. DJ. Is there anything this guy can't do?" TV Guide has more concisely called him a "Renaissance Man" but if Henry Rollins could be reduced to a single word, that word would undoubtedly be "workaholic." When he's not traveling, Rollins prefers a to keep a relentless schedule full of work, with gigs as an actor, author, DJ, voice-over artist and TV show host to name a few of the roles that keep his schedule full. Rollins has toured the world as a spoken word artist, as frontman for both Rollins Band and Black Flag and as a solitary traveler with insatiable curiosity, favoring road-less-traveled locales in places such as Nepal, Sri Lanka, Siberia, North Korea, South Sudan and Iran
Tickets for all three shows go on sale this Friday, June 16 at 10 AM online at KingCenter.com and Noon at the King Center Ticket Office / 321-242-2219. For more information visit KingCenter.com
Stay up to date on all King Center Announcements & Happenings!
Sign up to receive e-mail alerts and announcements
Follow Social Media:
Facebook: @King.Center
Instagram: @KingCenterMelbourne
instagram.com/kingcentermelbourne/
About Maxwell C. King Center for The Performing Arts
The King Center is a 501(c)(3) not-for-profit organization and a direct support organization of Eastern Florida State College. Since 1988, the six-story, 100,000-square foot facility has been dedicated to presenting educational, cultural and community events. The King Center features the L3Harris Technologies Theatre, an acoustically live, 2,016-seat main theatre. Other spaces include an intimate 300-seat Studio Theatre, a Crown Club VIP room where Crown Club members enjoy exclusive benefits, and a spacious rotunda available for receptions, corporate functions and other special events.

Mission Statement: To improve the quality of life for all residents of Brevard County through cultural, educational, recreational and community arts programs, by providing access to high quality, challenging and diverse touring and local performing arts events.
About ASM Global
ASM Global is the world's leading producer of entertainment experiences. It is the global leader in venue and event strategy and management—delivering locally tailored solutions and cutting-edge technologies to achieve maximum results for venue owners. The company's elite venue network spans five continents, with a portfolio of more than 350 of the world's most prestigious arenas, stadiums, convention and exhibition centers, and performing arts venues. Follow us on Facebook, Instagram, LinkedIn, and Twitter. asmglobal.com
####