First Time Ever - JUSTIN MOORE!
For Release: Friday, June 9 at 7:20 a.m. EDT CONTACT: Pepper Entertainment
(605) 357-7377
Support@pepperentertainment.com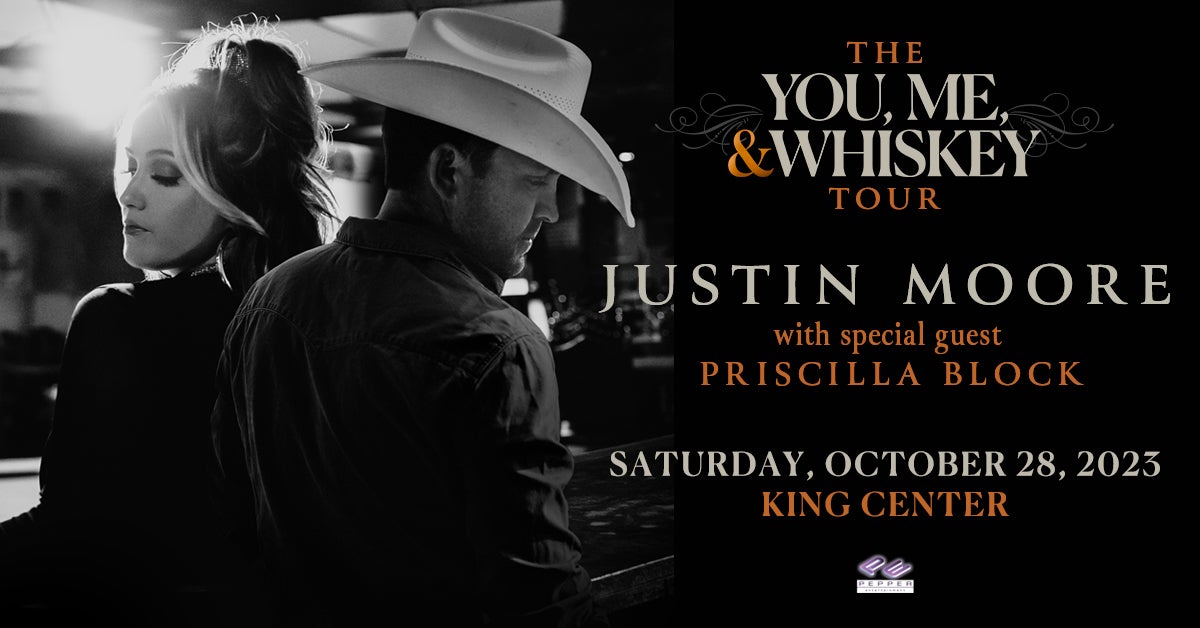 Justin Moore – The You Me & Whiskey Tour
With special guest: Priscilla Block
King Center
Saturday, October 28, 2023
Tickets Go On Sale Friday, June 16, at 10:00 a.m.
Melbourne, FL., June 12— Country star Justin Moore coming to the King Center for the Performing Arts in Melbourne, FL for the first time ever as part of The You, Me, & Whiskey Tour with special guest Priscilla Block on Saturday, October 28. Tickets start at $39.50 plus applicable fees and go on sale Friday, June 16, at 10 AM online at KingCenter.com and Noon at the King Center Ticket Office / 321 – 242 -2219.
About Justin Moore:
Multi-PLATINUM hitmaker Justin Moore has built a loyal following over the past decade with his traditional country sound and captivating live shows. Climbing the country radio charts with his current single, "With a Woman You Love," the emotional tune follows in the footsteps of his 10th No. 1 hit, "We Didn't Have Much," which is featured on his eight-track collection of tunes, 'Straight Outta The Country.' The Arkansas native's extensive fanbase helped boost his fifth studio album, LATE NIGHTS AND LONGNECKS, to the top of the charts upon its release. Lead track "The Ones That Didn't Make It Back Home," and follow up "Why We Drink" both peaked at No. 1 on both Mediabase and Billboard.
Moore's previous project, KINDA DON'T CARE, earned the singer his third consecutive No. 1 album debut and features his chart-topping singles "You Look Like I Need A Drink" and "Somebody Else Will." It served as a follow up to his second No. 1 album release, the GOLD-certified OFF THE BEATEN PATH. Over his 10+ year career, Moore's No. 1 hits have also included "Point at You," "Lettin' The Night Roll" "If Heaven Wasn't So Far Away," "Small Town USA" and "Till My Last Day" as well as seven Top 10 hits and PLATINUM-certified albums JUSTIN MOORE and OUTLAWS LIKE ME.
The Valory Music Co. recording artist has earned multiple ACM, ACA and ACC Awards nominations as well as an ACM Award win. He has shared the stage with Hank Williams Jr., Brad Paisley, Miranda Lambert, routinely traversing coast-to-coast on headline runs and hitting the road this spring to headline his 'Country On It Tour.' Adding to his already impressive career, Moore has also been busy hosting his Justin Moore Podcast sponsored by Bobcat with tour manager JR and interviewing guests such as Oscar award-winning actor Matthew McConaughey; Country stars Tracy Lawrence, Jon Pardi, Brantley Gilbert; wrestling champion Diamond Dallas Page and ESPN's Marty Smith. He also recently took on a new role as co-host on 103.7 The Buzz's morning drive-time sports talk show, "Morning Mayhem," where he spends his weekday mornings dishing out his never-ending sports knowledge on-air.
About Priscilla Block:
Country artist Priscilla Block draws listeners in with her unfiltered, relatable songwriting and catchy melodies. Pegged as an Artist to Watch by Amazon Music, PANDORA, Spotify, CMT, The Boot, MusicRow, HITS, Sounds Like Nashville, Country Now, Music Mayhem and more, Priscilla's honest and upfront approach promotes self-love, empowerment, and acceptance through her own blend of country pop and southern rock, dubbed the Block Party sound. Throughout the pandemic, Priscilla began experimenting on TikTok and quickly developed a rabid fanbase with songs like "Thick Thighs," "PMS" and "Just About Over You." Fans rallied together to independently fund Priscilla's recording and since its release, "Just About Over You" peaked both the iTunes Country and All-Genre song charts, the song was named one of The New York Times Best Songs of 2020, and it recently reached Top 15 on country radio. Originally from Raleigh, NC, Priscilla moved to Nashville to pursue music shortly after high school.
About Pepper Entertainment
Established in July of 2006, Pepper (PE) is based in Sioux Falls, SD. As one of the fastest scaling, independent promotions company in the Midwest, PE, collectively, exceeds 25 years of experience spanning a broad scope of industry specialties, such as; Live Promotions, Corporate & Private Event Talent Buying, Club & Performing Art Center Programming & Media & Marketing Services. Pepper currently ranks 27th of the Top 100 Worldwide Promoters according to Pollstar Magazine and was nominated in 2020 and 2022 as Promoter of The Year by The Academy of Country Music. Pepper holds offices in Sioux Falls, SD, Minneapolis, MN and Boise, ID.
Tickets for Justin Moore go on sale next Friday, June 16 at 10 AM online at KingCenter.com and Noon at the King Center Ticket Office / 321-242-2219. For more information visit KingCenter.com
Stay up to date on all King Center Announcements & Happenings!
Sign up to receive e-mail alerts and announcements
Follow Social Media:
Facebook: @King.Center
Instagram: @KingCenterMelbourne
instagram.com/kingcentermelbourne/
About Maxwell C. King Center for The Performing Arts
The King Center is a 501(c)(3) not-for-profit organization and a direct support organization of Eastern Florida State College. Since 1988, the six-story, 100,000-square foot facility has been dedicated to presenting educational, cultural and community events. The King Center features the L3Harris Technologies Theatre, an acoustically live, 2,016-seat main theatre. Other spaces include an intimate 300-seat Studio Theatre, a Crown Club VIP room where Crown Club members enjoy exclusive benefits, and a spacious rotunda available for receptions, corporate functions and other special events.

Mission Statement: To improve the quality of life for all residents of Brevard County through cultural, educational, recreational and community arts programs, by providing access to high quality, challenging and diverse touring and local performing arts events.
About ASM Global
ASM Global is the world's leading producer of entertainment experiences. It is the global leader in venue and event strategy and management—delivering locally tailored solutions and cutting-edge technologies to achieve maximum results for venue owners. The company's elite venue network spans five continents, with a portfolio of more than 350 of the world's most prestigious arenas, stadiums, convention and exhibition centers, and performing arts venues. Follow us on Facebook, Instagram, LinkedIn, and Twitter. asmglobal.com
####