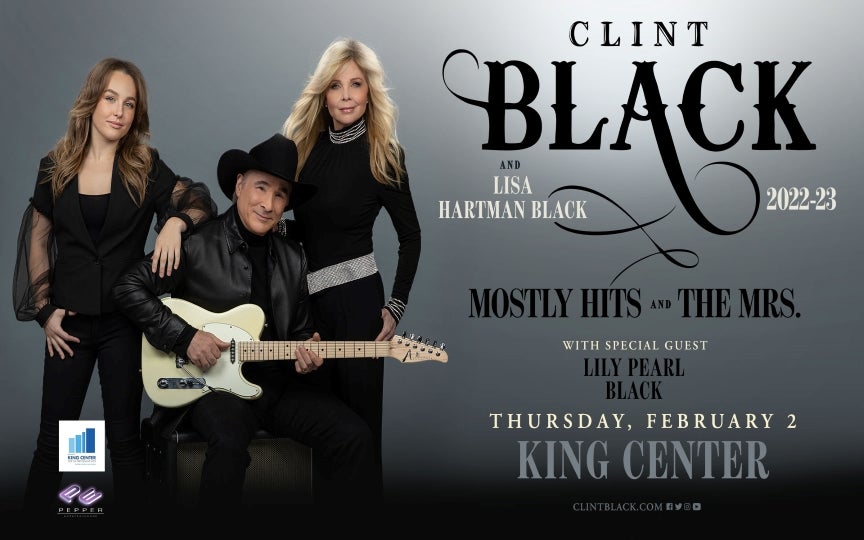 Date

Feb

2

2023

Event Starts

7:30 PM

Location

L3Harris Technologies Theatre

Doors Open

6:30 PM

Ticket Prices

Starting at $50

On Sale

On Sale Now
Pepper Entertainment
Clint Black featuring Lisa Hartman Black
Mostly Hits and the Mrs. Tour, with special guest Lily Pearl Black
Event Details
Grammy-winning Country superstar Clint Black and his wife Lisa Hartman Black are hitting the road again for year two of the "Mostly Hits & the Mrs" Tour with special guest Lily Pearl Black. Both VIP Packages and Platinum Seating are available!
Clint Black surged to superstardom leading the fabled Class of '89, with five consecutive singles from his triple-platinum debut album, "Killin' Time," reaching #1; a feat never accomplished before in any music genre. He followed that with his second album, certified triple platinum "Put Yourself in My Shoes," followed by a string of certified gold and multi-platinum albums. Black has earned 22 #1 singles and 31 Top 10's, making him one of the most successful singer/songwriters of the modern era. He has sold more than 20 million records and has received dozens of major awards and nominations including a GRAMMY and stars on both the Music City and Hollywood Walk of Fames.
Lisa Hartman Black starred in the iconic TV show "Knots Landing," which launched her career in a formidable array of movies and mini-series. With her prowess as an actress and her high TVQ, Lisa assured top ratings for the networks with her performances in "The Operation" with Joe Penny, "Roses Are for The Rich" with Bruce Dern, "Beverly Hills Cowgirl Blues" with James Brolin and "Without A Kiss Goodbye" with Chris Meloni and Cloris Leachman. She starred in three mini-series: "Valley of the Dolls," "2000 Malibu Road" and Judith Krantz's "Dazzle." Lisa and Clint starred together in "Still Holding On: The Legend of Cadillac Jack" and "Flicka: Country Pride." Lily Pearl joined the cast of the latter at age nine. Clint and Lisa released their Grammy-nominated duet, "When I Said I Do," in 1999, which won an Academy of Country Music Award. The two were a part of "The Masked Singer," season 4, as the first-ever duo, "The Snow Owls."
Mask Policy: Use of masks are optional and at the discretion of individual patrons
Clear Bag Policy:
Clear Bags up to 12"x6"x12" or 1 Gallon Resealable Storage Bag ONLY
Small Wristlets / wallets will still be allowed
(4.5" x 8.5" x 2")
NO LARGE PURSES OR BAGS ALLOWED IN
Mostly Hits & The Mrs. VIP Package
MOSTLY HITS & THE MRS. VIP PACKAGE includes:
· One (1) ticket to the show
· Personalized video greeting from Clint Black & Lisa Hartman Black
· Limited edition, signed Hatch Show print tour poster
· 12 oz. bag of Clint's Cowboy Coffee
· Clint Black coffee mug
· Mostly Hits & The Mrs. Live CD signed by Clint & Lisa
Merchandise items will be available for pickup on the night of the show.